SPIDER-MAN: INTO THE SPIDER-VERSE - MAIN ON END TITLE SEQUENCE
Role: Lead Compositor + 3D Artist
Software: After Effects + Cinema 4D
Created at Alma Mater


---
Directors: Brian Mah and James Ramirez
Title Designers: Brian Mah and James Ramirez
VFX Supervisor: James Anderson
Lead Compositor: Renzo Reyes
Compositor: Joshua Studebaker
Animators: Dan Meehan, Thomas McMahan, Ben Hurand, Billy Maloney, Richard DeForno.
Illustrator: Eric Hibbeler
Editor: Keith Roberts
Executive Producer/Producer: Ben Apley
Music: "Elevate" by DJ Khalil, Denzel Curry, YBN Cordae, Swavay, & Trevor Rich
---




Shortly after wrapping up my time at Royale, I was super pumped to join the team at Alma Mater to help bring this massive Main on End sequence to life. Big kudos to my homie James Ramirez, aka Fried Pixels , for trusting me to lead this sequence on the compositing front. We definitely put a lot of time and effort into this 3 minute long multiverse extravaganza. The entire sequence was animated and rendered in stereo from Cinema 4D. Composited and finished in After Effects using the Evil Twin script for stereo work.


I focused on both 3D and compositing. For 3D, I helped setting up the stereo in Cinema 4D (eye separation, zero parallax, etc) to make sure we were getting good depth without creating visual chaos for the viewers. We playblasted all shots in stereo and used a 3D TV to check for continuity and stereo convergence problems. James and I pushed for utilizing the takes system as much as possible in this project. Because the final look was 100% created in compositing, we needed to render textures and passes from Cinema 4D as individual elements, in stereo. We created dozens of takes for each scene so we could isolate ojects, textures and create custom RGB mattes.

For compositing, we utilized all those render elements to dial in the final look inside After Effects. The goal was to make the entire sequence feel as 2D as possible, that meant removing any shading, reflection, specularity, etc. Instead, we used a lot of textures like spray paint, halftones, paper. We also used lots of sketch & toon renders from C4D.

I am particularly proud of the last section of the title sequence, James and Brian Mah (the directors), gave me a lot of creative freedom to come up with a unique and dynamic look for that section. The Spider-verse title sequence also received the Excellence in Title Design award at the 2019 SXSW festival. For more info on this title sequence, there's a great article over at

Art of the Title.

Below are some behind the scenes clips and stills from the MOE sequence.
---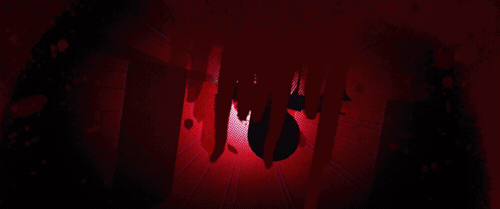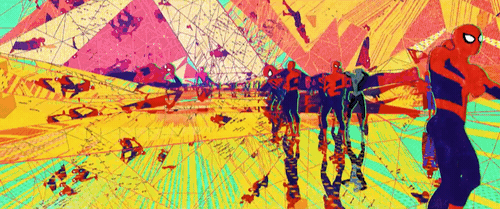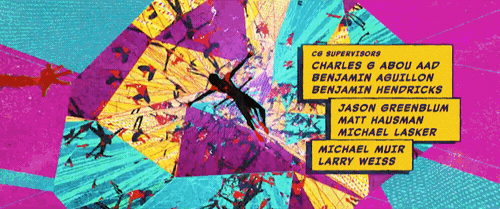 ---
STILLS