SMUCKERS
Role: Compositor, Animator
Software: After Effects, Cinema 4D
Produced at We Are Royale
I had the chance to work on this cool spot doing some compositing in After Effects. The goal here was to create a stop motion look and feel and making sure the Smuckers jar was the star of the show. The most challenging part was achieving a good, tasty look for the fruit spread and also some light play inside the jar as the sun comes up.
During the pitch phase, I jumped into Cinema 4D to create a motion test for the client. This test was based off some of the frames created by the designers in the team. The test was rendered using Vray for Cinema 4d.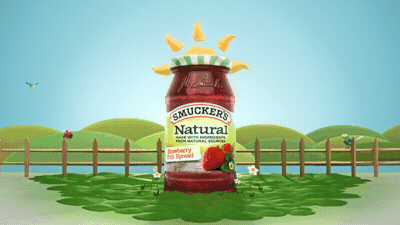 Motion test created during the pitch phase. Made in Cinema 4D.
SHOTS I WORKED ON: